Thursday, December 21, 2006
Ho ho ho, bitches
FESTIVE! Christmas Preview Part 1

First, the bad news: LOWCULTURE is going on a festive break tomorrow, so we can eat mince pies and roast our nuts over an open fire and all sorts of other festive things. We know, we know, you're utterly distraught about the very idea of having to cope without us, but rest assured: we'll be back with business as usual from January 2nd. In the meantime, we thought we'd provide you with a bumper preview of top festive telly, part one of which starts right here. Oh yes.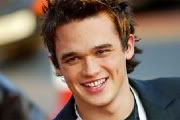 On December 23rd, or Christmas Eve Eve as we like to call it, there is of course Strictly Come Dancing - the Final, although we care now a lot less than we would if the Bunton were still in it, especially since we don't especially like Mark or Karen or Matt. Lilia's ace, though. There's also a very special Casualty two-parter to mark Josh's exit. He might die! But he also might not. On The Other Side, the gap left by The X Factor is painfully obvious, but we'll be clearing some time out to watch Whatever Happened To Gareth Gates?, and we hope Ray and Leona watch it as well.


On Christmas Eve there's...well, not a lot, to be honest. There's a decidedly iffy-sounding light entertainment show on BBC1 called Duet Impossible where apparently new technology makes it possible for stars to sing with their heroes of yesteryear. Yeah. Moving on, there's a bumper 45-minute Christmas special of Never Mind The Buzzcocks on BBC2 at 9.30pm, the network premiere of Calender Girls on BBC1 at 9.30pm, and over on Living TV at 8.00pm there's an America's Next Top Model special where previous winners including Yoanna House (cycle two) and Nicole Linkletter (cycle 5) tell you what they're doing now. Of course, you could just go down to McDonald's and ask them yourself. Also: for a repeat of the brilliantly ridiculous finale to Hollyoaks: In The City, watch E4 at 10.00pm.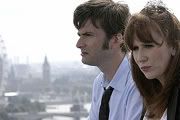 Christmas Day brings us the new Doctor Who Christmas special, which is obviously all anyone cares about, so moving on...what? Oh, fine: other programmes on that day include festive editions of EastEnders, Coronation Street and Strictly Come Dancing, as well as comedy probable-finales from The Vicar of Dibley and Little Britain Abroad. We advise you to avoid Ricky Gervais Meets Christopher Guest on Channel 4 at 10pm, because frankly Ricky Gervais doesn't need any more attention than he's already getting, but we do advise you to catch the festive staples that are the Top of the Pops Christmas Special (2.00pm on BBC1, just in case it's never on again) and The Snowman on Channel 4 at 2.30pm. Obviously you'll have to tape one of them.


Boxing Day looks like it might have to be the day where you watch all your DVDs, but there is a very festive Chrissytittybangbang on BBC3 at 9.30pm. People who fancy Johnny Depp (that's everyone, then?) can enjoy Pirates of the Caribbean: The Curse of the Black Pearl on BBC1 at 7.30pm. There's a fascinating-sounding Faking It Burlesque Special on Channel 4 at 9.00pm, and film-wise there's a lot of fun to be had from the double bill of Bedknobs and Broomsticks and the Jamie Lee Curtis/Lindsay Lohan version of Freaky Friday on BBC1 from 2.45pm. If you're truly desperate, you could watch The Charlotte Church Show Christmas Special on Channel 4 at 10.25pm, but we'd only recommend it to the terminally masochistic.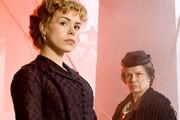 On December 27th we'll be mainly getting very excited about Billie Piper starring in Philip Pullman's The Ruby in the Smoke on BBC1, but also getting some of our attention will be How Do You Solve A Problem Like Maria?: Connie's Story on BBC1 at 6.30pm and a double bill of Hollyoaks on Channel 4 at 6.00pm where Craig and John Paul come to blows (and not in the way we'd like them to) over Swimbint.

The second and final part comes tomorrow - bet you can't wait, can you?
By Steve :: Post link ::


::
1 pop-up comments :: Discuss on messageboard
Links to this post:
1 Comments:
In Bedknobs and Broomsticks Angela Lansbury has a print on her wall entitiled 'Not Caught Yet' which shows a rabbit hiding from a fox. My Grandparents had the very same print! and I inherited it a few years back!! everytime I look at it I think of Bedknobs.

Merry Christmas