Monday, February 25, 2008
Libbin' it up
RETURNING! Neighbours, Five, 1.45pm, 5.30pm, 5.10am, Five Life, 7.00pm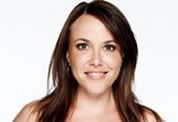 One of the great things about Neighbours is that whenever a favourite character leaves, there is always a good chance you'll see them again. Even if they die. (See also: Home and Away, EastEnders, Emmerdale).
Tonight sees the return of an old favourite, Libby Kennedy. Libby comes back to support mum Susan through her trial and her still-a-mystery-but-not-for-much-longer illness. It's a good job someone in the family cares. Mal and Billy are both too busy being overseas, and Carytyre is too busy going out with Paul McClain to actually give a damn. Seriously, they could at least phone.

We're not sure what kind of job Libby will have, what with Riley being the new resident journalist and 'Fitzy' the new teacher, but there's still a doctor's position going, so maybe she'll have had yet another career change. However, all is not well in Libby-land. She and Ben (worryingly, he is played by the brother of the actor who plays Mickey, we thought we ought to warn you) are back, but where is Darren?

What this all means is that not only is Libby back, she's back with a bang, as the Kennedy-Smith-Kennedy-Smith-Kinski-Kennedy clan enter into some of their biggest storylines to date. Following on from this, can we have Lucy, Gail and RobRob back now please?
Labels: Five, Five Life, Libby Kennedy, neighbours, TV
By Rad :: Post link ::


::
0 pop-up comments :: Discuss on messageboard
Links to this post:
0 Comments: