Monday, November 27, 2006
All in a lather
SUDSY! Coronation Street, ITV1, 7.30pm & 8.30pm / EastEnders, BBC1, 8.00pm

Wow, the soaps are all pulling out the big guns tonight by the look of it. Well, technically Coronation Street is saving its truly big guns for Friday, but it's still got a fairly ample gun ready tonight all the same. Perhaps an Uzi of some kind. We don't really know much about guns, despite all the lovely gratuitous gun porn in Supernatural.


Anyway, first to Coronation Street. Most of us agree that Cilla is a reprehensible human being, even if she makes for great telly. We should, however, prepare to empathise with her just a little bit tonight when the doctor reveals that she has skin cancer, presumably from all that time she's been spending on the sunbed. To make matters worse, when she heads home after receiving the news, she finds Les in a compromising position with Yana. We apologise for any undue distress that mental picture may have caused you. So tonight is not a good night to be Cilla, not that we're sure there's ever a good night to be Cilla.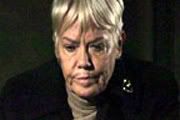 And in EastEnders, Pauline nearly died in a house fire. Hooray! But sadly she's still alive. Boo! For now, anyway. Yay! (That was a sneak preview of the official LOWCULTURE pantomime, tickets for which will be on sale in the very near future.) You'd think a near-death experience might be enough to mellow even the most hardened of battleaxes, but not Pauline. Horrified at the thought that she might die before she gets the chance to split up Mar'in and Sonia for good, she lies to Joe and Martin that she has a brain tumour. Just one of the many reasons why we will not miss her at all when she eventually meets the Grim Reaper. Who will probably run away screaming.
By Steve :: Post link ::


::
1 pop-up comments :: Discuss on messageboard
Links to this post:
1 Comments:
More Coronation Street news and gossip at Corrieblog (www.corrieblog.tv)
By

Anonymous, at 12:03 pm