Monday, October 08, 2007
For Pete's sake
NEW! Pete's PA, Living, 10.00pm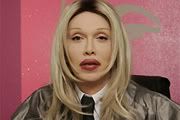 Hmmm. We were wondering precisely what Living TV were going to do to fill all those holes in their schedules that were caused by the Great Anti-Racism Jade Goody Embargo of 2007 (out of curiosity, is that still running? We assume so, but we haven't really been checking lately), and the answer would appear to be thus: they're going to reuse the formats and get someone else to front them. That is assuming that we're not being simplistic in assuming that Pete's PA will essentially be a new series of Jade's PA, only with Pete Burns instead of Jade Goody. We were kind of hoping for Naomi Campbell to be the replacement host, because that shit would've been unmissable, but this will do.

There was talk following Pete's appearance on Celebrity Wife Swap that perhaps he wasn't as confrontational as people expected, and that it rather ruined the fun of the format for people to essentially, minor disagreements notwithstanding, get on fairly well and have a bit of a giggle. With any luck, Pete will be significantly more unreasonable in this, even if it's only pantomimed for the cameras. Because we suspect that a show where competent PAs sit a few tests for a standard PA job without being regularly berated by the potential boss would not ultimately be compelling television.

So the obligatory first-episode footage involves Pete sifting through the various obsessive fans and camera whores and attempting to find someone who might actually be able to do the job properly (not that it really matters whether we believe the winner will go on to be his PA or not; we're assuming that most of us will stop caring the minute the cameras stop rolling, assuming we ever started caring in the first place, which remains to be seen), eventually selecting ten finalists. Seeing him delivering a few verbal putdowns to the more hopeless efforts should be worth tuning in for, we should think.
By Steve :: Post link ::


::
6 pop-up comments :: Discuss on messageboard
Links to this post:
6 Comments:
i think that pete burns is inhuman also so fkin ugly that he should sue his/hers as they say in other countries !!!!!!!!!!!!!he is a bully one hit celluite wonder also who the hell would want to work for a lazy good for nothing his/her anyway ???????????????also that "if you cross me you will want to be dead /alive" ,is so 80z i think that he is a freak who craves 4 attention it makes me sick that so many people need help and @a person needs to make money to give to her/him instead of going to local school to see if any ones mother or father is of interest ie ,theyhav a terminal disease or single woman bringing up a child/children has cancer /or father that is wots called entertainment,it makes me ill wots so special bout him ??????????????????/her ???????????????noone bought his single unless they were gay his/her friends but the way it, ie he she talks ,to people makes you wonder if the media are just mkin up all these idiots to empty rubbish /and take crap from a c- minus kindof celeb NOT FOR A MILLION QUID HE /SHE MAKES ME SICK DUE TO THE WAY he/she TALKS TO PEOPLE IS SO SICKENIN IF IT WAS JO BLO FROM WOTEVER WOULD THEY BEND OVER ALWAYS ALSO HE/SHE IS A FRUIT FLY THEY ALSO MAKE PEOPLE SICK THANKS
By

Anonymous, at 2:46 am
you can find out all about Pete Burns www.peteburnsfanclub.co.uk
To "anonymous" (first comment) - can I suggest you actually turn up for your English class when you go back to school?
By

Luskentyre, at 8:44 pm
wow gOLD Store Welcome you
woW GOLd! Look here to Buy
WOW gold, Cheap
Wow golD, Power Leveling,
WoW GOld on Sale with Fast

Instant Delivery!
By

Anonymous, at 9:49 am
Cheap WOW GOld, Please look here
Buy wow GoLd,
World of Warcraft WOw golD and woW gOld money,
wOw Gold.Acquista WOw gold oro,
wow goldSoldi, WOw GOld to each loyal and
woW goLD siamo uno dei miglioriWoW gold which is very cheap.
By

Anonymous, at 9:19 am
I can see why you refer to yourself as anonymous-if I sounded that ignorent I would want to be anonymous as well. David is right, you do need English classes.
By

kelly, at 9:00 am