Friday, September 28, 2007
The Spice is Right
SAMBA! Dancing with the Stars, UKTV Gold, 8.00pm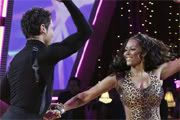 We're literally sweating with excitement over the imminent return of Strictly Come Dancing with the promise of, amongst other things, Alesha Dixon being fierce and Gethin Jones wearing tight spandex, not to mention having a legitimate excuse to avoid watching The X Factor on Saturday nights. But we're champing at the bit, and we need something to fill that void between now and then: thankfully UKTV Gold (which, if the fate of UKTV G2 is anything to go by, will shortly be rebranded Maureen to have more in common with its audience or something) is showing the brand new season of Dancing with the Stars, mere days after it airs in the States. Spoilerphobes everywhere rejoice!

Inevitably, in much the same way as international viewers are unlikely to recognise Letitia Dean or Brian Capron, some of the celebrity aspect of the show is rather lost in translation: Josie Maran, anyone? Sabrina Bryan? Mark Cuban? Not exactly household names over here, at least not in our household. But there are a few major coups in the casting - Mel B, hoping to correct the injustice that was Emma Bunton not making the final in Strictly last year because she wasn't a sportsman and therefore hadn't really had A Journey; Marie Osmond, Jennie "I Choose Me" Garth, and Jane Seymour. Pretty impressive, yes?

Presumably you don't need us to tell you how the show actually works, suffice to say that there are only three judges instead of our four (they still have Len and Bruno, but a lady by the name of Carrie Ann Inaba fills in for Craig and Arlene), and Samantha Harris, America's Tess Daly, is out of action for a while after popping out a wee bairn, so her shoes are being filled by season two champ Drew Lachey. We're sure he'll look just darling in a frock and matching pumps. This week's dances are the cha-cha-cha and the foxtrot. And that's all there is. Girl power!
Labels: Dancing with the Stars, TV, UKTV Gold
By Steve :: Post link ::


::
0 pop-up comments :: Discuss on messageboard
Links to this post:
0 Comments: